ER or Urgent Care: Which One Should You Choose?
By
Published November 25, 2014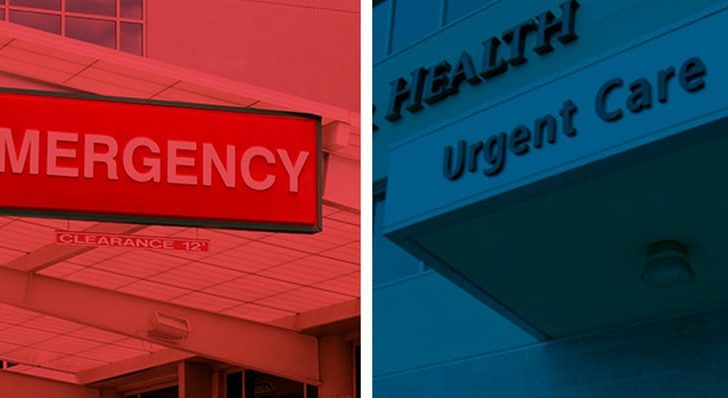 When you are sick, injured and in pain, and seeing your primary physician right away is not an option, feel hopeful to know there are other alternatives. I'm sure the least that is going through your mind is to search and compare for your next best available option. Probably all you care at that point, is to do whatever it takes to feel better, and to do it fast.
It's just not that simple to make that choice right away.
Nevertheless, I will do my best to help you understand a little bit more, by relating this topic with a personal story, and providing you with some valuable insights. It does come very handy to know about the available options you might have in case of need, and in most cases, without breaking your bank.
My ER Story
Last year, while wondering around my backyard, I suddenly felt this intense pain on the heel of my right foot. It was as if I had stepped on a big, sharp piece of glass. I looked, but didn't see anything. The pain was getting worse by the minute; excruciating and continuous. My foot was getting warm, red, and swollen. I wondered, what kind of critter was this? Was it poisonous? What if I am allergic? What should I do? Where should I go?
All I knew was, that I was alone, with my 1-year-old baby, and that it was really hard keep it together and to bare the pain.
Then I realized that I had an Urgent Care facility just across my neighborhood. But I knew little about the services they provided, so at that point I thought going to ER was the best alternative. I had no idea what stung me, and all I could think of was the probability of losing my foot. I mean, back home (in Puerto Rico), I never had to worry about poisonous species, since there is none. Since I moved to the states, I have heard numerous horror stories about people being stung and losing their limbs. Who wouldn't freak out over this? Am I right? Google doesn't help either as it shows you the worst of the worst.
I called my husband at work – he is a Veterinarian—and told him what was going on. All he said was, "Honey, what you have is an allergic reaction. First, clean the area with soap and water, apply a cold compress and raise your foot. Then, apply a topical steroid and take Diphenhydramine (fancy word for Benadryl)." He even suggested that all a physician would do in my case was to prescribe Prednisone (a steroid) for the inflammation, and Doxycycline (Antibiotic), just to prevent any possible infection.
Should I have just followed his advice? Probably yes; he is a doctor! But no. I was freaking out over the idea that I was not sure what stung me, so I begged him to take me to the nearest ER. The nearest one was more than 15 minutes away, and that is without traffic jams. I thought once I got there, the ER staff was going to to take care of me ASAP. I have to stop watching Grey's Anatomy and other ER TV shows; they have distorted my reality.
After almost two hours of waiting, I asked the nurse—for the fifth time—why they were taking so long. "I'm sorry; there is only one physician available, "she said. Are you kidding me? I was in awe from what I had just heard. I could not believe it; I mean, shouldn't an Emergency Room have more than one MD available? Is that a fantasy I have? The only reason that I chose to drive that extra to 15 to 20 minutes instead of going to the Urgent Care, was because my sense of urgency, which probably was unfounded.
Finally, the doctor came "to the rescue." He looked at my foot, then looked at me and said: "Ma'am, you have an allergic reaction. I will prescribe a steroid and an antibiotic, just in case to prevent infection, and if it doesn't get better, give me a call." I felt like a moron. That was exactly what my husband told me they would say. I even asked him what could have stung me, and he responded; "I don't know; anything, but at least not life threatening." A couple of days later I noticed there were some wasps flying low on my lawn. And it was right there, thanks to my dear friend Google, I was able to identify the "criminal": it was a yellow jacket wasp!
Later, for some weird reason, I thought my medical bill was going to be reasonable. I mean, they (the ER staff) practically didn't do anything for me, except to make me wait and bring me a bag of ice when I asked them to. Three months later that reality smacked me on the face. One day I got the mail and I noticed there was a bill from the hospital. I almost had a heart attack. Can you guess how much they billed me just to step in into their ER facilities? $1,800! All they had done was give me a bag of ice—only after I asked for it and for stepping into their facilities. The bill did not included the MD services, which was coming on a separate bill.
What Did I Learn From This?
Some Urgent Care facilities do provide a variety of services that most people are unaware off, and at a much lower cost. After my experience, I got curious and called the "Urgent Care clinic" near me and told them about my experience. They said that if I had chosen them instead, it would have cost me no more than $200. They would have given me a shot of steroids instantly; no waiting to get it at the pharmacy. It was very frustrating to know that, but sometimes, regardless of whether it was the right choice or not, it is "better to be safe than sorry." That's when I realized heading straight to the nearest Emergency Room was the right thing to do at that particular moment.
Now I know I should always be familiar with what my options are (ER's, Urgent Care facilities, walk-in clinics) in case something happens. I encourage you to do the same. Get to know the facilities around you, and the services they offer (not all offer the same services). Last but not least; have an idea of how much it's going to cost you. I mean, sometimes you don't even think about money when your life is on the line, but we all know health care it is not inexpensive. Sad but true. It is something that could potentially impact your financial well-being.
So, get to know the difference and when to visit one or the other.
Understand the Basics Between the Two
Here are the main differences between an Urgent Care facility and the ER.
Urgent Care Centers
If you're suffering from a non-life-threatening illness or injury, an Urgent Care facility is the most convenient alternative. Most of these places offer a variety of on-site services such as x-rays, lab work, comprehensive examinations, run diagnostic tests, dispense prescription, and even administer IV treatments, among others. Also, they treat medical situations such as cuts, sprains, simple bone fractures, flu and fevers, insect bites, infections, etc. In most cases the waiting time is, usually, less than a traditional Emergency Room.
These centers have extended service hours. However, keep in mind they are not equipped to deal with major medical traumas or conditions. They are intended to provide treatment for less serious conditions after regular office hours, or when your primary care physician is not available. Your co-pay or co-insurance for an urgent care visit will often be lower than that of an ER visit. If you don't have a co-pay and have to pay out of pocket until you meet you deductible (which it was my case), the cost differential will be even higher (usually $200 vs. $1,500).
Emergency Rooms
Emergency rooms were primarily designed to provide fast, lifesaving care. Emergency Rooms are open 24 hours a day for potentially life-threatening emergencies. Many plans cover some portion of emergency care no matter where you are, even out of their network area. Once your condition is stable, in most cases, you will be moved to an in-network provider for follow-up care. Keep in mind that even if you have a reasonable ER co-payment, co-insurance or deductible, you may also have additional out-of-network charges.
While the American College of Emergency Physicians reports that 92% of emergency visits are from "very sick people who need care within 1 minute to 2 hours," the National Hospital Ambulatory Medical Care Survey estimates that one-third to one-half of all ER visits are for non-urgent care. The top three reasons for ER visits, in the last couple of years, were for superficial injuries, contusions, sprains and strains, and upper respiratory infections. Due to this occurrence, the CDC defined non-urgent as "needing care in 2 to 24 hours."
Where Should You Go? The ER or Urgent Care?
In order to able to make this decision, the key is to determine what a true emergency is. Even though, sometimes it is difficult to distinguish one from the other due to other factors influencing our judgment. We have to try our best to identify whether our need is life threatening or not. In my situation, if I would have had difficulty breathing, or high fever, probably the Emergency Room was my best alternative. Again, all I was thinking was that I was going to lose my foot, but that was not really the case. The uncertainty of what is going on could be enough to rush to the ER. And don't forget, if you think there is not enough time to make it, always call 911.
Before Making a Final Decision …
I strongly suggest that you contact your health insurance, and make sure you understand all your benefits. In most cases, calling them before choosing where to go can make a significant difference. Most of them have professional services available over the phone that can help you and guide you through the process.
Keep in mind that some health plans will not pay for ER visits if these are considered to be non-emergency care. I know that the least you want to do is to stress over a medical bill; especially when you did what was necessary to save your life or even someone else's. Now it's up to you. What are you going to do? Do you feel ready for the next one?
Update: I received some good feedback from a friend on Facebook after she read this post. Her input was that "you have to be careful at urgent care clinics. Some privately owned clinics that offer radiology services and lab services like to run up your bill. I know first hand because I worked for someone who did that. So if you think a test doesn't seem necessary at the time you might want to wait and talk to your primary care physician about it first. Generally, urgent care is cheaper because walking in the ER costs around $1200 +. Also, don't go to urgent care if you think are having a heart attack or stroke, or if you have suffered a head injury ER's are best equipped for that. Urgent cares are best for minor illness (when your primary care physician is unavailable), allergic reactions, lacerations, and fractures."